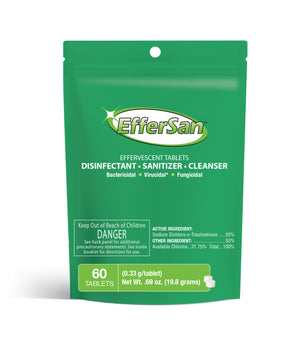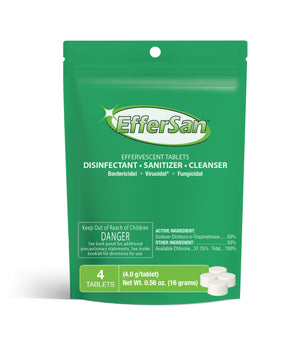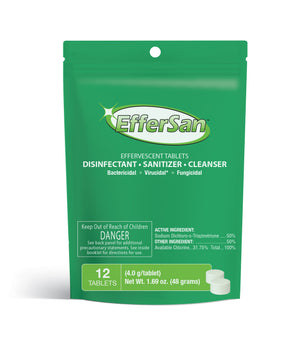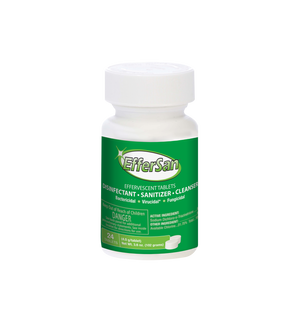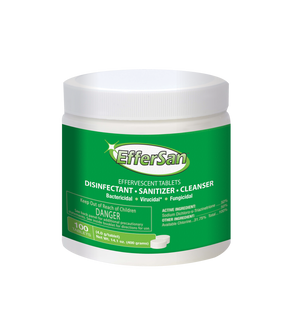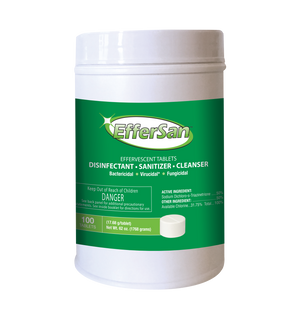 EfferSan Multi-Purpose Sanitizer & Disinfecting Tablets
FREE SHIPPING ON ORDERS OVER $30.00. EfferSan is a rinse-less sanitizer that does not contain a masking fragrance, which eliminates unpleasant and enduring residues. EfferSan's subtle chlorine scent ensures effectiveness without being overwhelming, and removes germs and odors, unlike other products that typically cover up smells. EfferSan is simple, safe, compact, convenient, and can be applied directly on hard surfaces without fading or whitening.  

EPA registered

Sanitizes 99.999% bacteria in 60 seconds

Controls bacteria and algae

Easy Shipping, storage and disposal

Eliminates and controls odors

Dissolvable in hard or soft potable water

Economical and cost effective

Approved for human and livestock drinking water.


BULK PURCHASING
Need larger quantities? We sell EfferSan in bulk through our distributor partners. Contact us today for more information and where to buy!
{formbuilder:5485}